About the CISPA-Stanford Center for Cybersecurity
Structure of the Program
The program starts with a preparatory postdoc phase at CISPA of 1-2 years (Phase P). This phase is followed by a two-year research stay at Stanford University as a visiting assistant professor (Phase I). The program is concluded by taking the lead of a research group at CISPA for up to three years (Phase II).
The concept of the CISPA-Stanford Center for Cybersecurity follows the BMBF-funded Max Planck Center for Visual Computing and Communication (MPG-VCC), which has been established in 2003 between the Max Planck Institute for Informatics and Stanford University.
Organizational Structure of the CISPA-Stanford Center
The organizational structure of the center is depicted in the following diagram. The mentioned bodies are further explained in the following sections.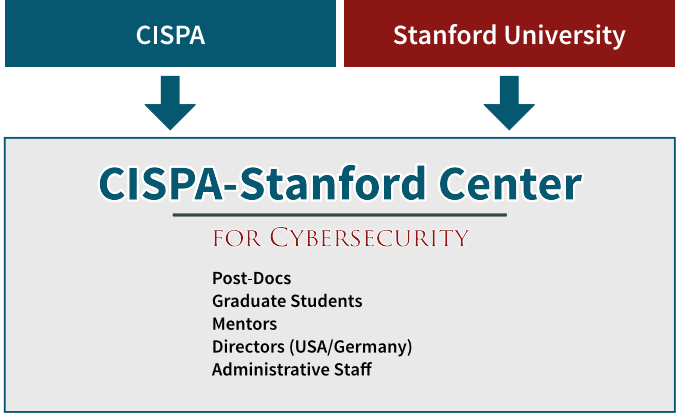 Directorate of the Center
At CISPA the Center is directed by Professor Michael Backes, professor of Computer Science and director of the Center for IT-Security, Privacy and Accountability. At Stanford, the Center is directed by Professor John Mitchell, Professor of Computer Science and currently vice provost of Stanford.
Michael Backes
John Mitchell
Advisory Board
The Advisory Board consists of an independent group of senior leaders in the field who will review the work of the Center annually and submit a report summarizing their finding to Stanford University and Saarland University.
The members of the Advisory Board are the following: